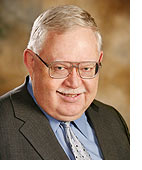 Dave Hargett, the current Public Member of the BRPT Board of Directors, passed away on Sunday, August 22 in Bolingbrook, Illinois. For a complete obituary please follow this link: Dave Hargett Obituary
Dave Hargett's passion and commitment to the field of sleep medicine took numerous forms. He was a tireless leader in obstructive sleep apnea patient advocacy and a devoted Public Member of the BRPT Board of Directors, representing the interests of consumers and the public. His service on the BRPT Board began in January 2009.
"A dedicated patient advocate, Dave's perspective and insights were invaluable to our work over the past two years," said BRPT President Janice East, RPSGT, R. EEG T. "He represented us at a number of professional events and his strong commitment to patient advocacy and the delivery of quality patient care never wavered. Dave had a particular interest in on-going patient education and the treatment of obstructive sleep apnea as a chronic illness. In addition, Dave was instrumental in the continuing review of the Board's bylaws, policies and procedures. He also actively encouraged BRPT to begin to build a presence in the social media arena as a means of strengthening the community of BRPT credential holders. He will be greatly missed."
Diagnosed with severe obstructive sleep apnea in 1994, Hargett's sleep apnea was successfully treated with CPAP therapy. He began attending a local A.W.A.K.E. group in 1995 and coordinated two sleep apnea support groups affiliated with the A.W.A.K.E. Network of the American Sleep Apnea Association (ASAA). In 2002, Hargett joined the Board of Directors of the ASAA and served as Chairman since 2004. Hargett helped launch www.talkaboutsleep.com and regularly spoke to community groups about sleep apnea and sleep disorders.
Hargett was also committed to his work for the Fountaindale Public Library in Bolingbrook, IL and served as an elected Trustee.
Said Ed Grandi, Executive Director, American Sleep Apnea Association, "Dave was passionate about educating the public and the medical community about sleep apnea. He thoroughly enjoyed participating in the A.W.A.K.E. Program and was pleased to serve as the BRPT's Public Member. The sleep community has lost a great patient advocate."